"From Palette to Palate"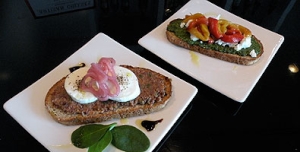 By: Brenda Maitland

Food has been a frequent focus of great art: the fleshy fruits, vivid vegetables, a fresh-poached fish propped on a plate just so.

Whether viewing these resplendent works activates art lovers' culinary cravings as well as their visual appetites, spending hours walking around a grand museum examining priceless pieces of art, historical artifacts or archeological finds often engenders thoughts of a seated repast in a reflective setting.

Enter the museum café or restaurant. From London to Los Angeles, from Paris to New Orleans, museums-goers are spending more time at the table in these bastions of culture, both dining and decompressing.

A number of Paris museums provide some of the ultimate in dining—as well as art—pleasure palaces. Perhaps the best such experience is the French Impressionist-rich Musée d'Orsay, a circa-1900 former train station on the banks of the Seine whose ornate restaurant showcases a stunning gilded décor with magnificent chandeliers and painted ceilings, along with serving superb French cuisine.

Several of New Orleans' diverse museums present distinctive dining choices, and, in a kind of reversal of good fortune, a museum also is located in a top-notch restaurant!

Café NOMA

The city's principal fine arts institution, City Park's New Orleans Museum of Art which celebrated its 100th anniversary this past month, recently revamped and expanded Ralph Brennan's Courtyard Café—originally planned as a temporary eatery opened to accompany a previous exhibit.

Museum dining rooms often reflect the collections or thematic tone of the institution; however, for all of the museum's glorious neo-classical, beaux arts architecture and centuries old works, the new permanent Café NOMA leaps ahead to mid-twentieth century for the inspiration for its interior design.

To continue reading the full article, please click the link below.
www.countryroadsmagazine.com/Cuisine/from-palette-to-palate/Page-1