Culinary Arts, Culinary History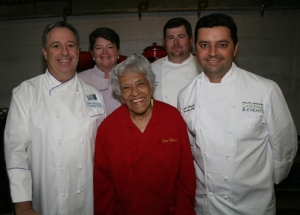 Posted June 6, 2012
By: Ian McNulty

There's a lot of Creole cooking on display at the New Orleans Museum of Art (NOMA), at least as long as the exhibit "Leah Chase: Paintings by Gustave Blache III," is on show. But there's also Café NOMA, the eatery that restaurateur Ralph Brennan operates in the museum, and beginning this week the café will feature a series of cooking classes each Friday. In fact, Leah Chase herself will be part of the series for a few sessions in July and August.

The summer cooking series is called "Art You Can Eat," and it will be held at 7 p.m. on Fridays from June 8 through Aug. 24. It's free, once you've paid your admission to NOMA. The series is billed as interactive demonstrations of the tips and tricks behind classic and contemporary cooking, cocktails and food presentation, and it promises to show us how to easily replicate professional techniques.

They feature chefs from the Ralph Brennan Restaurant Group properties, including Café B, Café NOMA, Ralph's on the Park and the Red Fish Grill. Topics range from pickling (June 8) and crafting dessert cocktails (June 15) to "do-it-yourself molecular gastronomy" (July 20) and food photography (June 29). Leah Chase will be part of the events on July 13 (making Creole cream cheese, mozzarella and ricotta), Aug. 3 (making roux and gumbo), Aug. 10 (modern updates to New Orleans classics) and Aug. 24 (on lighter touches for Creole cooking).

Talking Art, Food, Life

In a separate event, this Sunday, June 10, NOMA hosts a talk with Leah Chase and Jessica Harris, a prominent culinary historian, cookbook author and long-time friend of chef Chase. Billed as a "public conversation," the two will discuss the chef's art collection, food and her approach to life. The event begins at 3 p.m.


For more information, click below.
www.bestofneworleans.com/blogofneworleans/archives/2012/06/06/culinary-arts-culinary-history