Tailgate Like a Chef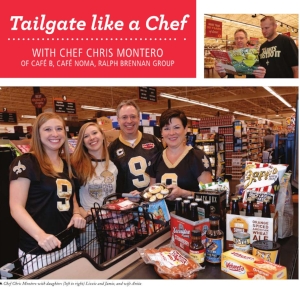 With Chef Chris Montero, of café b, Cafe NOMA & Ralph Brennan Restaurant Group

My father took my brother and me to the very first Saints game at Tulane Stadium. I was 8, and dad bought season tickets for us Montero men. When it came time for the team to move into their own stadium downtown, we chose 9th row terrace seats because they had the exact same view as our Tulane ones. You can see where this is going...

My wife, Anita, is the sales manager at Ralph's on the Park, but she could easily have a second career doing the color commentary with Bobby and Hokie. Our house is the "the locker room," where everyone gathers before the games. I'm fifth generation Mid-City, the 4th generation since 1895 to live in our house, which is right off of Canal Street. We all jump on the streetcar heading downtown to tailgate at Rouse, or with a group of chefs and restaurant folks right by the stadium. How long Monteros spend tailgating depends not on who's playing, but who's holding the tickets. I'm antsy; I like to be in our seats before the players warm up on the field. Anita just wants to be there before the national anthem.

To read the complete article, visit the link below.
http://yourgms.com/downloads/magazine-0826/magazine-0826.html#16/z